Allow me to preface this article by stating up front that this review is incomplete. There are large portions of the
End Game release
that I have not played and have no interest in playing. The following is a review of the Rush and Capture the Flag game modes and my opinion of the maps in relation to those game modes. Take it for what it is and please don't waste my time pointing out that I didn't bother with Conquest or Air Superiority.
It was obvious in past articles that I was skeptical of the final installation of
Battlefield 3
, some of the included features led me to believe the maps were going to be of a scale similar to the
Armored Kill
release. I was unimpressed with the concepts for the new vehicles, and overall I have very little faith in DICE. I enjoy the game
(hell, I have nearly 700 hours playing it so far,)
but on the whole I distrust and dislike the developer.
That said, within minutes of loading the first map
(Operation Riverside)
on Rush, I was stunned. Lots of trees, rocky hills, and COLOR! It kept getting better too; I immediately hopped on the fancy new dirtbike and started cruising through said rocks and trees, giggling like a prepubescent girl at a New Kids on the Block concert in the 80's all the way. The objective areas themselves were impressive too. There were some open objectives, some in partial cover, and some surrounded by heavy cover. On top of that, each objective provided ample flanking opportunities for the assaulting team
(no more haplessly running headlong into a barrage of fire from well entrenched defenders, praying for somebody to blow it and let your guys in.)
The more I saw of these, the more it hit home that there is something for everybody in the designs themselves.
After a couple days and a lot more play time I have to say these maps keep playing better and better. They are NOT one-size-fits-all types like most of the past expansions.
End Game
brilliantly blends infantry and vehicle combat together into a near seamless whole, due in large part to the vehicles available. On Rush, each map has an IFV or MBT, an air asset
(either a scout or attack helicopter,)
a mobile anti-air unit, and a handful of dirtbikes for the attacking team. The selections of IFV/MBT and Scout/Attack helicopters seem to lend very well to the maps themselves, providing ample opportunity to counter the vehicles based on terrain, map scale, and availability of cover. For example,
Kiasar Railroad
is the largest of the new maps and has both a Main Battle Tank and an Attack Helicopter. Despite the vehicle assets being some of the heaviest hitting in the game, the map is not quite as scary as it is on its face. This map has many hills and hollows on top of tons of trees and heavy foliage. There are plenty of areas to hide and fire from concealment as well as sneaky places to stash mines, C4, and anti-air vehicles.
Capture the Flag plays ten times better than I expected. I don't recall playing any CTF in either 1942 OR BF2, but I spent more time in the Tribes franchise playing CTF than I really care to discuss (
needless to say I have plenty of experience with the game mode to warrant an opinion.)
I really expected a dull, slow, vehicle standoff between the two teams but was pleasantly surprised to discover that it is the exact opposite. Dirtbikes and infantry factor heavily into this game mode which makes it a lot faster than I expected. In order to be successful there needs to be players specifically defending the flag and players specifically capturing and chasing the flag. Very reminiscent of "traditional" CTF and given DICE's fascination with taking a good thing and jacking it up; a welcome surprise.
I
DO
have a few gripes though... The new Mobile Anti-Air vehicle, while light and easily destroyed, seems to be better suited to taking out armored vehicles than air assets. It's armed with the standard locking ground-to-air missiles but instead of an anti-air "mini-gun" style cannon like previous MAA vehicles it has a bizarre rocket that I can only assume detonates in proximity to air vehicles but is brutally effective at leveling tanks in a single volley. It has has the driver and gunner seat separated which allows for faster, more effective use when a coordinated pair of players deploys it. This will be its only counter until people figure out how to use it properly, at which point it has the potential to be the most devastating asset available in the new maps.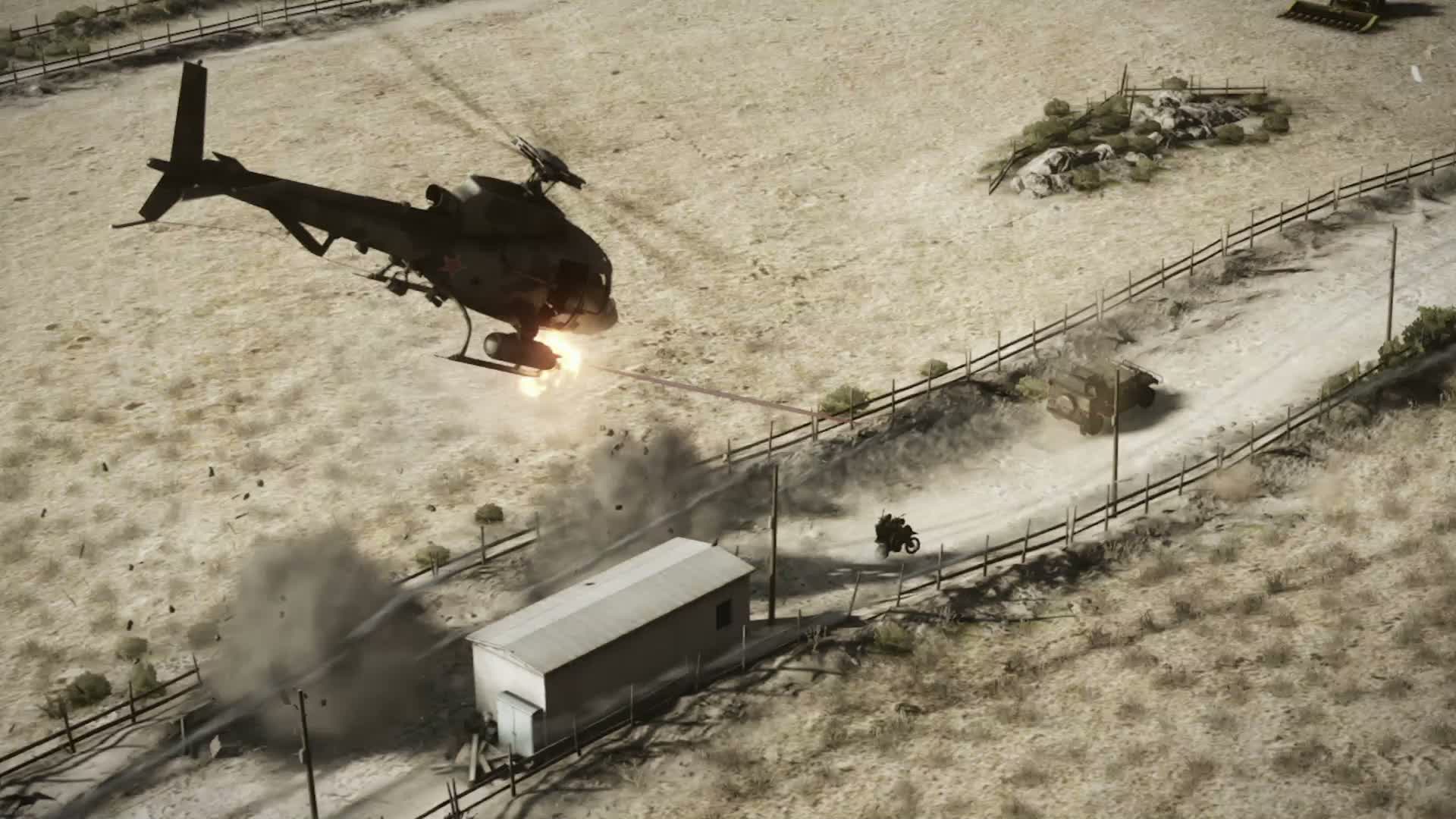 My second gripe is where the objectives are situated.... Rush is certainly a difficult mode to map for. Striking a balance between giving the assaulting team a chance and giving the defending team total control is understandably difficult, but while these new maps allow the attacking team to attack from the sides, they have VERY little room behind the MCOMMs themselves. Like the
Aftermath
expansion, the defenders frequently spawn absurdly far from the objective they are supposed to defend, and I assume because of that the attackers can't get more than a few meters behind the objectives. I think a relatively simple solution would be to allow the attackers to flank from the rear, but spawn the defenders nearly on top of the objective. This may further suit everyone's playstyles and open the game up to new Rush tactics that currently only Conquest players enjoy.
Overall though, I have to say this expansion is as close to "spot on" as DICE is going to get. Rush plays better than most maps, CTF is brilliant, and aside from the new anti-air vehicle needing some tweaks I think the vehicles are very well done. I am okay with saying that I was totally off on my prediction that this expansion was going to be underwhelming at best.
Originally I was going to include a map-by-map analysis, but given the long-winded nature of this article and in the interest of saving space, that post can be found
HERE
.
Hope to see you in the server!
Free Love & Sunshyne